Five deacons were ordained in June by Bishop Cathleen Bascom. Though marked by the ongoing pandemic, their first six months of ministry have been fruitful. Each of our four convocations has benefited from the ministry of the newly ordained, and the deacons are well-supported by their mentors, colleagues, and parishes.
On June 19, 2021, the diocese gathered at Grace Cathedral and Bishop Bascom ordained five deacons. This was the largest diocesan ordination since June 2017.
Ordained that morning were Carl Edwards of Trinity, Lawrence, Dillon Green of St. Paul's, Manhattan, Karen Schlabach of St. Thomas, Overland Park, Shawn Sherraden of St. John's, Abilene, and Ryan Willis of St. Peter's, Pittsburg. The previous month, Green had graduated from Virginia Theological Seminary, Alexandria, Virginia; the others had graduated from the Bishop Kemper School for Ministry, Topeka, Kansas.
As is the custom in the diocese, the bishop, after months of prayer and discernment with the ordinands, parish leaders, and her advisors, appointed the deacons to their initial placements.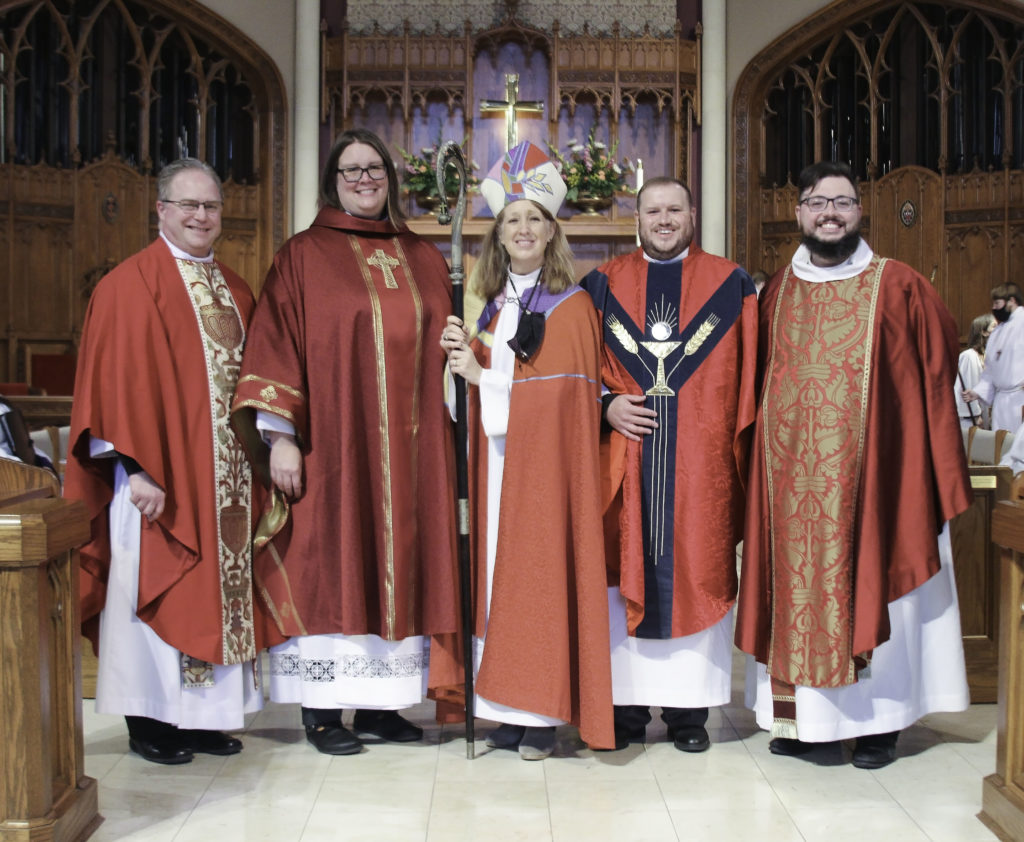 The bishop's appointments of new ordinands are typically between one and two years and are intended to be opportunities to learn. New deacons and priests work with appointed mentors as they practice and develop their skills for ordained ministry.
Deacon Carl Edwards, an attorney at the Kansas Board of Tax Appeals, is serving in Topeka at St. David's and at Bethany House and Garden.
The Rev. Dillon Green is the Curate for the Wichita Minster. Half of this full-time appointment is at St. James, Wichita and the other half focuses on the development of an intra-Minster young adult ministry anchored at St. John's, Wichita.
The Rev. Karen Schlabach is continuing in her role as Diocesan Youth, Campus and Digital Missioner. She has been appointed to St. Aidan's, Olathe as a part-time curate for parochial experience.
The Rev. Shawn Sherraden, a civil engineer with the US Department of Agriculture, is serving at Church of the Covenant, Junction City and at St. John's, Abilene.
The Rev. Ryan Willis, a Math and Physics Instructor at Coffeyville Community College, is the Curate for the Southeast Minster with appointments at St. Peter's, Pittsburg, St. Mary's, Galena and St. John's, Parsons. In the new year, Willis' ministry will focus on St. Peter's and St. Mary's.
Of the five, only Deacon Edwards is a vocational deacon. The other four were approved for ordination to the presbyterate and ordained as priests on January 8, 2022, at Grace Cathedral in Topeka.
The service was held in person and also live streamed. Participants gathered for a reception in All Saints Hall following the Eucharist to further celebrate the newly ordained.